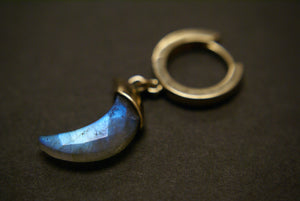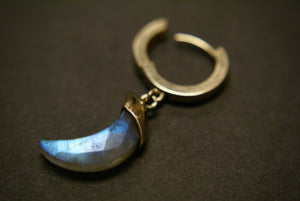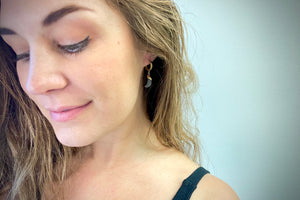 - This gold earring features a gorgeous flashy blue labradorite crescent moon with a gold cap that was hand-carved and cast...
Learn more
Love my gyroscope!! Had been eyeing them for years but finally made the plunge and SO happy I did! Beautifully made and so fun to play with. Thank you!
Maddy B.
This is such a beautiful piece of jewelry! I asked for a fire opal, and Betty gave me a lovely piece of flashy opal in the gyroscope. I am mesmerized by the colors it displays and how the gyroscope spins. The gyroscope is worth every penny!
Priscilla
Bronze Gyroscope 5.0 - Opal
I love love LOVE my fire opal spaceship key 🔥. The idea of an ancient futuristic relic really resonates with my soul. Thanks so much for your hard work Betsy! I'm proud to rock this fun piece. Definitely will order more of your jewelry when the time is right!!
Ali Jean
Deco Spaceship Key Necklace
Such a beautiful little pendant! I love the free spinning nature of it and its super well made. I love that its small enough for everyday wear! Safely packaged and quick to ship! A wonderful experience!
Emily
Mini Herkimer Diamond Spinner
My daughter has saved for this for almost a year. We are so happy with it. And we also got it just in time for Christmas. Thank you!
Pink Diesel
Gyroscope Pendant Necklace
A Christmas gift for my daughter, she says it's her favorite!
Sharon W.
This one is fit for a queen! Betsy let me choose the perfect stone for this ring, and was absolutely lovely to work with. I couldn't be more smitten with how it came to life! ♥️
Sarah S.